SO… LIKE….WE TOTALLY PLANNED THIS BIG PARTY AND THEN… LIKE… WHOA, A PANDEMIC HAPPENED, SO… LIKE… WE HAD TO CHANGE IT AND THEN… LIKE… IT BECAME…LIKE…EVEN MORE FANTABULOUS!
COWABUNGA, DUDE! CHECK OUT OUR INVITE!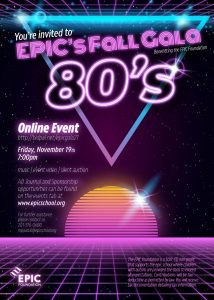 CLICK HERE FOR  INFO ABOUT SOME TOTALLY RAD SPONSORSHIP OPPORTUNITIES!
USE THIS FORM TO BECOME A MOST EXCELLENT SPONSOR!